What a winter of extreme weather conditions it has been! But don't many of us enjoy the thrill of the extremes? We hunt them out for our holidays – scorching ourselves on a beach in Mallorca or hurling ourselves down a frozen mountain in the Alps.
It just so happens that I was doing the latter two weeks ago.   I escaped the high winds and rain battering Britain and headed for the snow and ice of Switzerland for a family skiing holiday. Our journey each year to the village of Wengen in the heart of the Bernese Oberland involves taking an early morning ferry from Dover and then a long bleary eyed drive through France, Belgium, Luxembourg and Germany (depending which way the satnav decides is best). Unfortunately this year the wind and rain was reluctant to give us up to the continent without a fight and we were stuck at the port of Dover for 11 hours while the port was closed as the sea quaked and rolled.  We didn't arrive in Switzerland until 2 am.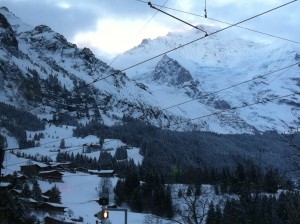 I remember when I first visited Wengen – it was so cold that when you breathed in you could feel small ice crystals form in your nose!
I love visiting the mountains; it's quite an addictive experience. You are always struck by the immediacy of the elements, nature, and the all surrounding towering white jagged peaks with pointed fir trees marching up them.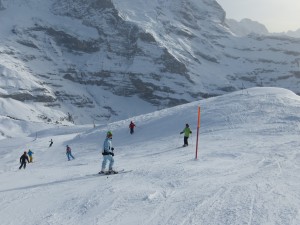 I have always thought that snow has this special quality that is full of mystery and imagination. As a child I remember gazing down from the ski lift as we glided over the tops of the trees and wondering if the small sapling fir trees poking out from the snow were actually full sized mature trees buried in a vast depth of white. The magic however can dissolve when you find yourself stuck on your skis at the top of a wall of ice with only 2m visibility, as the clouds have suddenly dropped, and with only 15 minutes to make it down to the last ski lift before it closes. But hey that doesn't happen that often.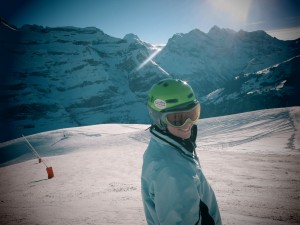 To tell the truth I'm not much of a skier, let alone an extreme one, I just go for the views of the mountains. What you must remember to do when skiing is not just to focus on the slopes but look up at the beauty of the miraculous landscape. Although my enjoyment of the extremes does not stretch to scaling the north face of the Eiger (a notorious mountain that has claimed the lives of at least 65 climbers since 1935) just having the chance to admire it is worth the 11 hour wait at the soggy windswept Dover port any day.