Practice Update – Spring 2011
May 2011
Since the beginning of the year, two new countries can be added to Terra Firma's areas of international operation, courtesy of an Environmental Impact Assessment in Gibraltar and Landscape Masterplanning for a new town in Afghanistan (in support of the Dubai Office).
Environmental Impact Assessment (EIA) submissions accompanying Outline Applications have been completed alongside (and informing) design work for both a state of the art Business Park at the MIRA HQ in Leicestershire and a mixed use, but predominantly residential masterplan at Roften, Cheshire.
Other residential schemes include the redevelopment of the old St Margaret's Convent School site in Midhurst, an early scheme in consultation with the newly formed South Downs National Park Planning body.
Churchill Retirement Living has taken staff members all over the country with an ever expanding programme of successful development sites. A sample of completed planting schemes from some of these, are pictured below; (see more on our landscape architecture projects pages)

In the education sector work continues on the IOW schools programme but new involvements have begun at St Swithuns, Winchester and the University of East London (alongside Jeremy Rye).
In the commercial sector plans have been produced for a new retail park on the outskirts of Chichester and ASDA stores in Hayes and Newhaven.
Among projects going on site over the summer, are the new Maggies Centre Swansea, a new public park south of the Thames at Gallions Reach for Tilfen Land and new facilities for Hartley Witney Parish Council.
It has been good to see the return of several projects that had been dormant for a while including the Dropmore Estate, the West Beach Hub proposal taking forward ideas from our Hayling Seafront Masterplan and secure hospital/social care facilities at Aylesbury and Hailsham.
On the personnel front we have been very pleased to welcome Emily Betts to the team full time as Assistant Landscape Architect in April after nearly 6 months of part time freelancing for us. Importantly, we are just about to celebrate the weddings of both Tom (May) and then Martin (June) …we wish them every happiness.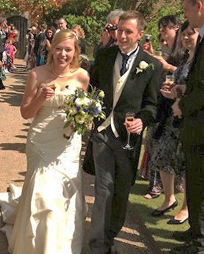 Martin and Karen at the Alverbank Country House Hotel