Read Time:
4 Minute, 33 Second
We are pleased to introduce Rachel Hammond, founder of EDGE, which designs and installs edible and productive landscapes across the UK, creating functional yet beautiful low-maintenance outdoor spaces for retail and business parks, offices, hotels, housing, and gardens.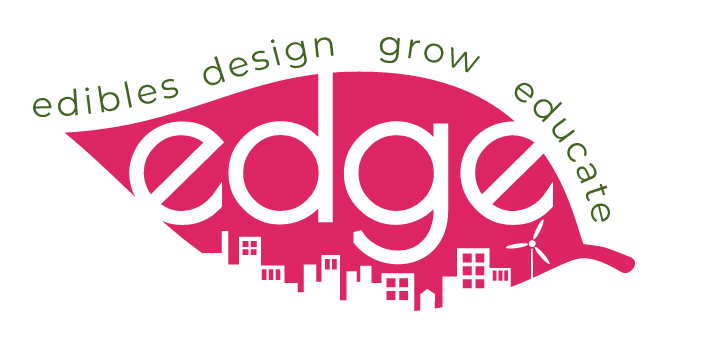 What is a productive landscape?
Productive landscapes could be interpreted in a number of different ways, primarily for food production. However, there are other productive species which we may want to consider when designing public spaces. At edge, we design spaces for people and the environment, resulting in landscaping which gives social, environmental and economic benefits.
Planting in urban environments is usually selected for its aesthetics, however if you start to think about how that planting could benefit both people and the environment, it starts to open up a number of different species.
As well as plants which produce food for humans, we may want to consider biodiversity, pollinators, continuous green corridors, flood mitigation, carbon sequestration, as well as other yields for humans.
So what other yields are there?
We create planting plans with many different themes; fruit, nut, vegetables, herbs, edible flowers, pollinator planting, timber species, medicinal plants, dye plants, plants for teas, to attract garden birds and wildlife habitats.
Social yields could include learning or socialising, quiet spaces and sensory spaces or facilities to support food enterprise such as community kitchens or composting schemes.
Here are some of what we think are the best productive landscape designs we've seen and been involved in over the last few years.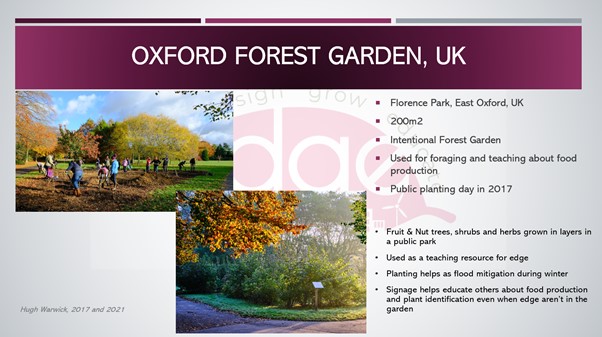 The above garden was designed when edge was still running as Incredible Edible Oxford and was designed as a collaboration between local residents and community groups. We wanted to create a space which was not only productive with food but could also be a social space and used for learning.
Four years on the garden has grown into itself; the trees and shrubs all fruit at various times of the year and we've use the space for many different teaching courses. At the height of summer, the fruit bushes are dripping with berries and many park users bring their tubs to harvest fruit. Because the garden is within a public park, there is a lot of footfall which creates opportunities for conversations and discussions around food production and how plants can help us manage our environment.
This area of the park traditionally got very wet and boggy for at least half of the year, and we chose species which could cope with wet feet during that time. The plants and pond scrape have worked wonders, preventing any serious flooding in heavy rain falls.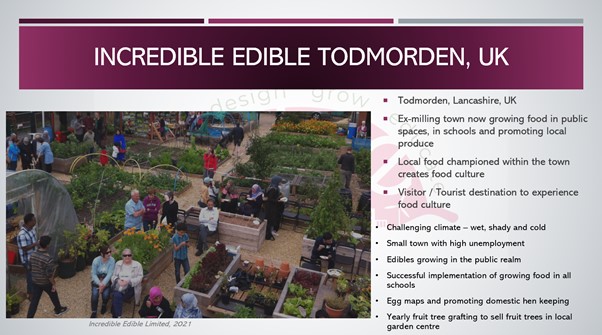 Rachel Hammond, edge's founder, lived in Todmorden for five years before moving back down South to Oxford. Todmorden is a unique town nestling at the convergence of three valleys with challenging climate and very steep hills. When incredible edible started there, there was a lot of excitement around the community taking positive action for the town and its people. When the project started, unemployment and crime were high, but the people of the town wanted something to be proud of.
As the food growing project grew itself, more people got involved and the impacts of local food were starting to ripple out across the town. Part of Todmorden's success is the public facing nature of the project and the fact that they have managed to get growing on the agenda of all the schools within the town. The creation of local food enterprise has also had huge benefits on the town and helped to create Todmorden as a food destination, attracting visitors and tourists alike, in turn growing the café and restaurant industry as well as guest houses and B and Bs within the area.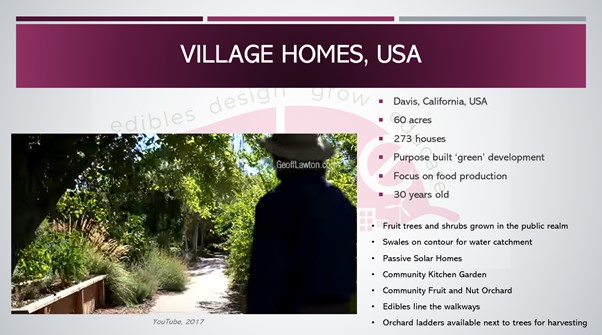 Village homes in Davis, California is an intentional residential development designed with productive edible landscaping around the housing. As well as fruit trees and shrubs, the area has been designed with swales to manage any rainwater or flood events. The swales do a fantastic job of diverting water away from roads and pavements whilst also allowing the rainwater to absorb into the ground therefore raising the water table and allowing the productive planting to access water all year round.
The success of this community can be seen on every street within the development; there are community allotments and orchards as well as the private spaces and public realm productive planting.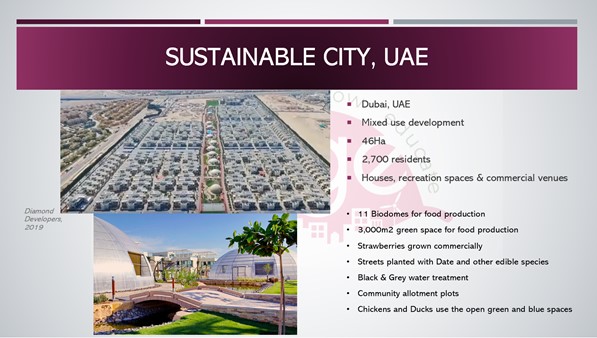 Can there really be a sustainable city in Dubai?
The self-named sustainable city in Dubai has been created to try and answer that question, and whether it does or not is down to your own subjective opinion. But what we like about it is that is challenges the mindset of what a sustainable city could be.
The public realm planting includes edibles such as date palms, the water management system includes grey and black water recycling and there is inclusion of bird keeping around those water courses such as ducks and chickens on the land. Greenhouses on site grow herbs and fruit for the residents and as microenterprise, and there is much consideration of how resources are used on site. We like the consideration of food enterprise within a development as well as edible landscaping around the housing, which can create fun and interactive space for the people that live there.
Hopefully these projects give you some inspiration for the inclusion of food within a future scheme, and highlights the possibilities for social, environmental and economic benefits to the locality.