Read Time:
6 Minute, 29 Second
This has been a landmark year for terra firma. In spite of everything being thrown at all of us with COVID, Brexit et al, we have been fortunate enough to have worked through it at full pelt, celebrate our 35th birthday and achieve a planned succession with the leadership. We know it's not been a good year for all but it has been good to see the solidarity and cohesion in our society to get through it together.
Our team at tf has been brilliant and was quick to adjust to remote working. This could not have been done without the ever-attentive, sure-footed technical support from CYAN. We were very sad to lose Tom Jenner at the beginning of the year after so many good years with us, but pleased to see him flourishing in a completely new field. We welcomed Jo in his place and have also been almost continuously using freelancers during the course of the year to whom we are enormously indebted – Nicola, Ben, Niall, David – thank you. Our regular subconsultant specialists – Bernie Harverson (arb), Paul Whitby and his team at Ecology Co-op, Tim O'Hare and his soils team – the list is longer – plus our satellite offices with whom we all chip in from time to time.
The year began well with a trip to the ProLandscaper Business Awards at Canary Wharf in January where we were thrilled to be winners of the Landscape Architect (over 10 staff) category.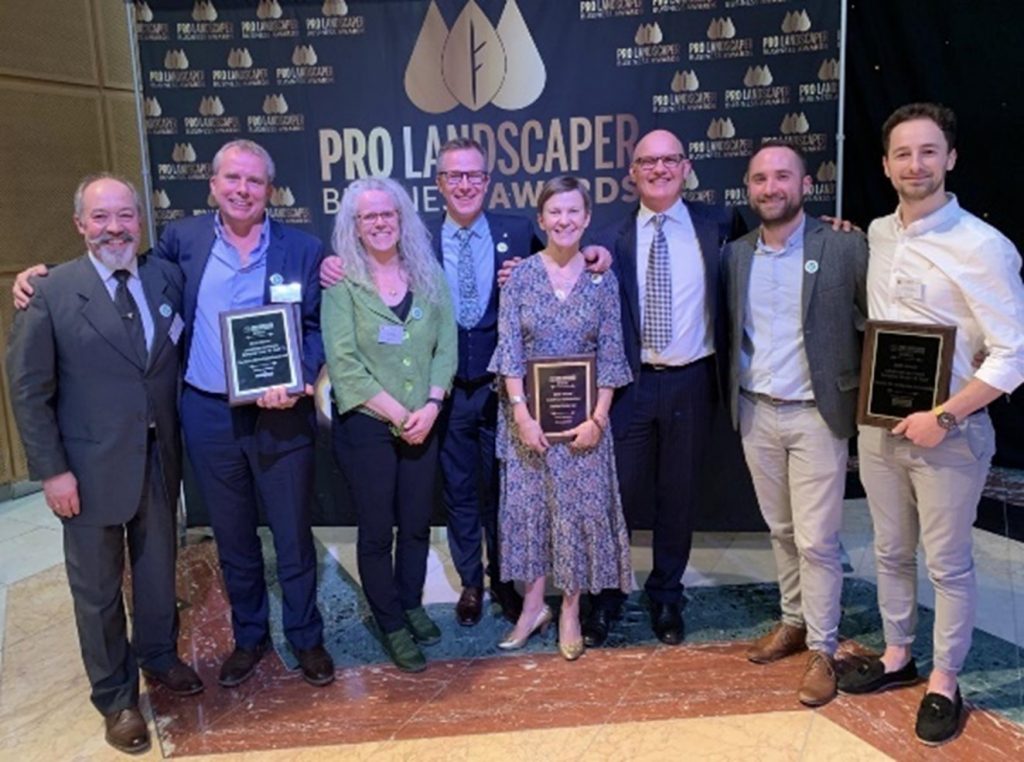 We were already beginning remote working in shifts when the first lockdown arrived in March. This was soon worldwide and we all became accustomed to working from our homes and communicating via teams and zoom meetings and calls throughout all the offices.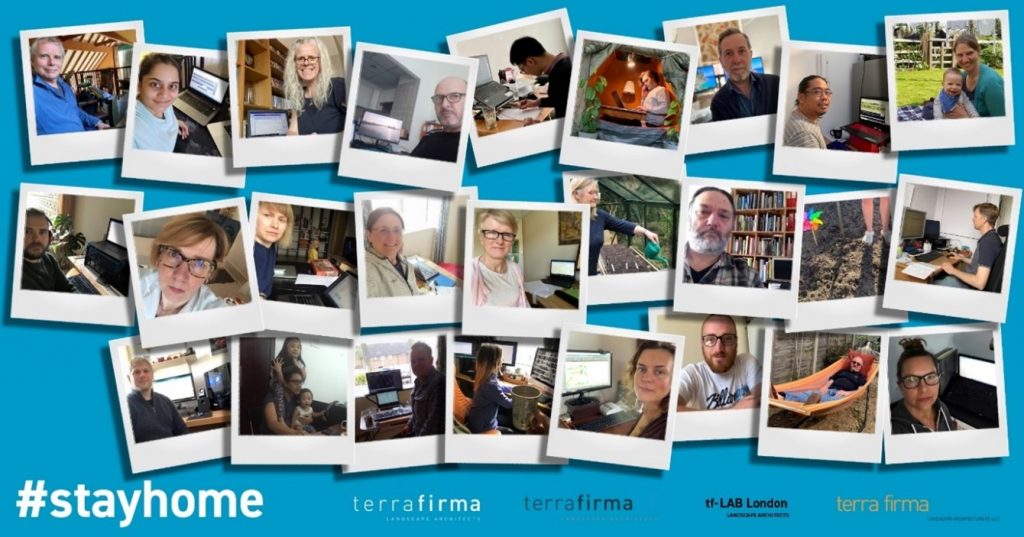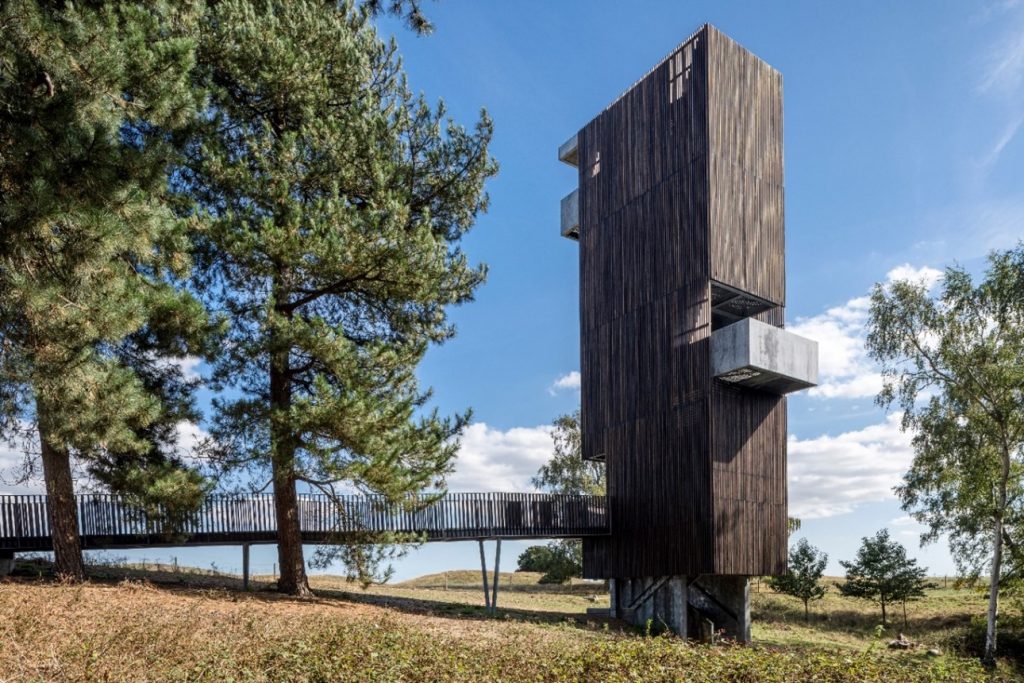 Nevertheless, projects continued on site and we saw the completion of a good few this year, including the upgraded museum, trails and stunning viewing tower at Sutton Hoo, working with architects Nissen Richards for the National Trust.
At Brookwood Military Cemetery a wetland boardwalk forms part of a graveyard extension project we have been undertaking for Woking Borough Council.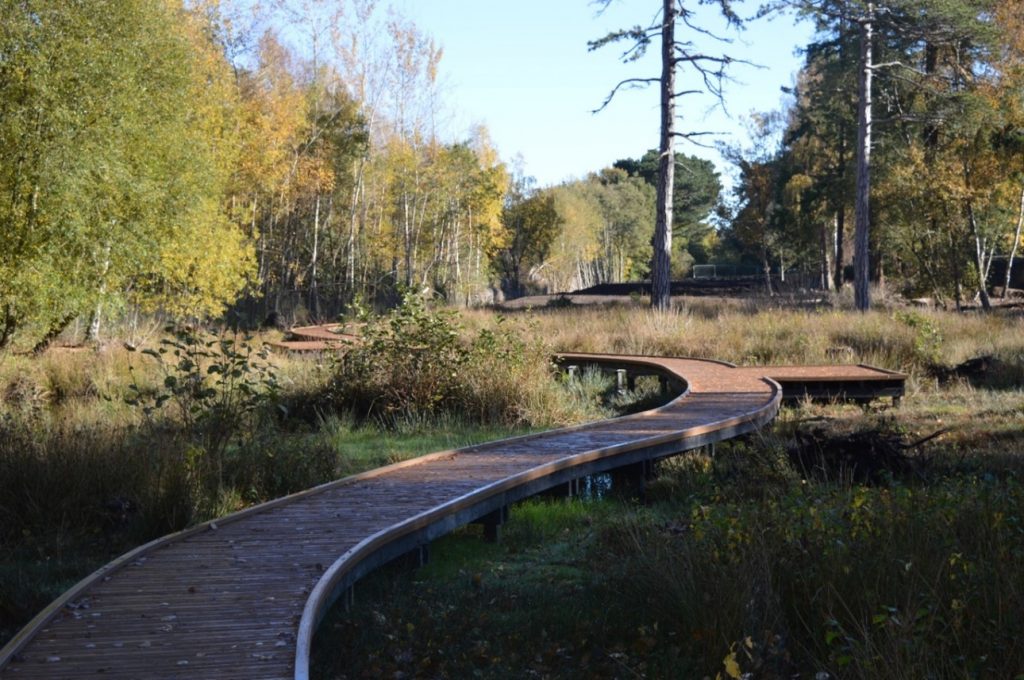 Also for Woking, it was good to revisit the Muslim Burial Ground Peace Garden at Horsell Common and see it establishing and so well cared for. Like so many green spaces, COVID has highlighted the need for such places to revitalise the body and spirit.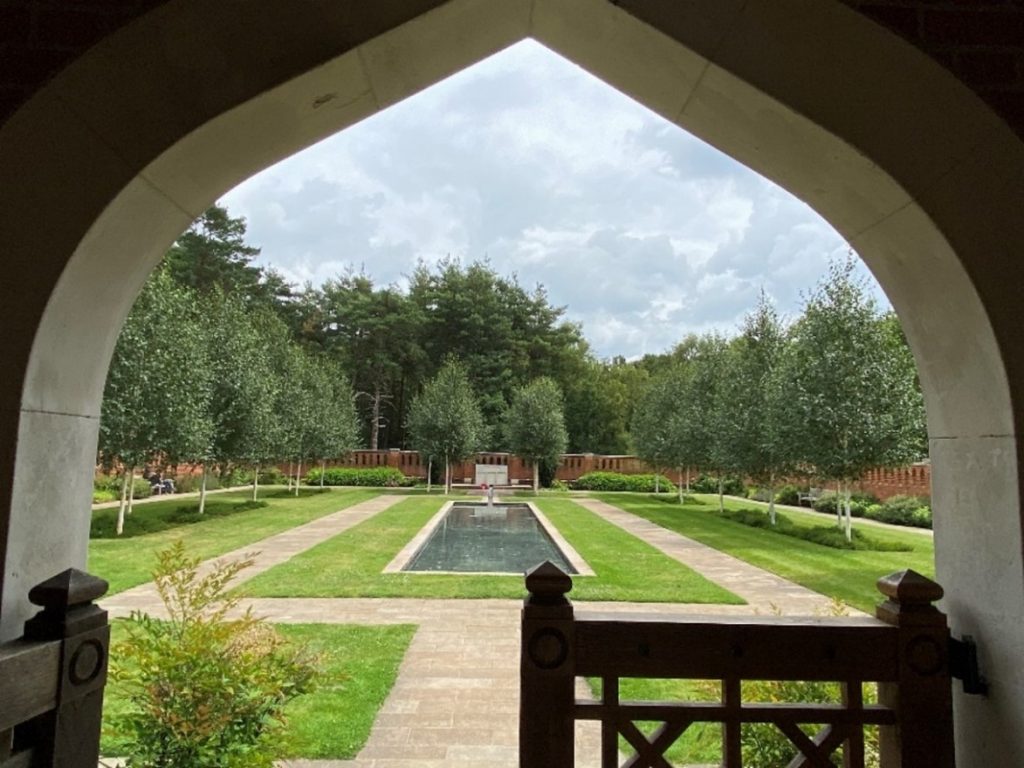 During the summer between lockdowns, it was wonderful to see our clients move into their extraordinary new house within a disused quarry that we planned the renovation, complete with waterbodies and naturalistic planting.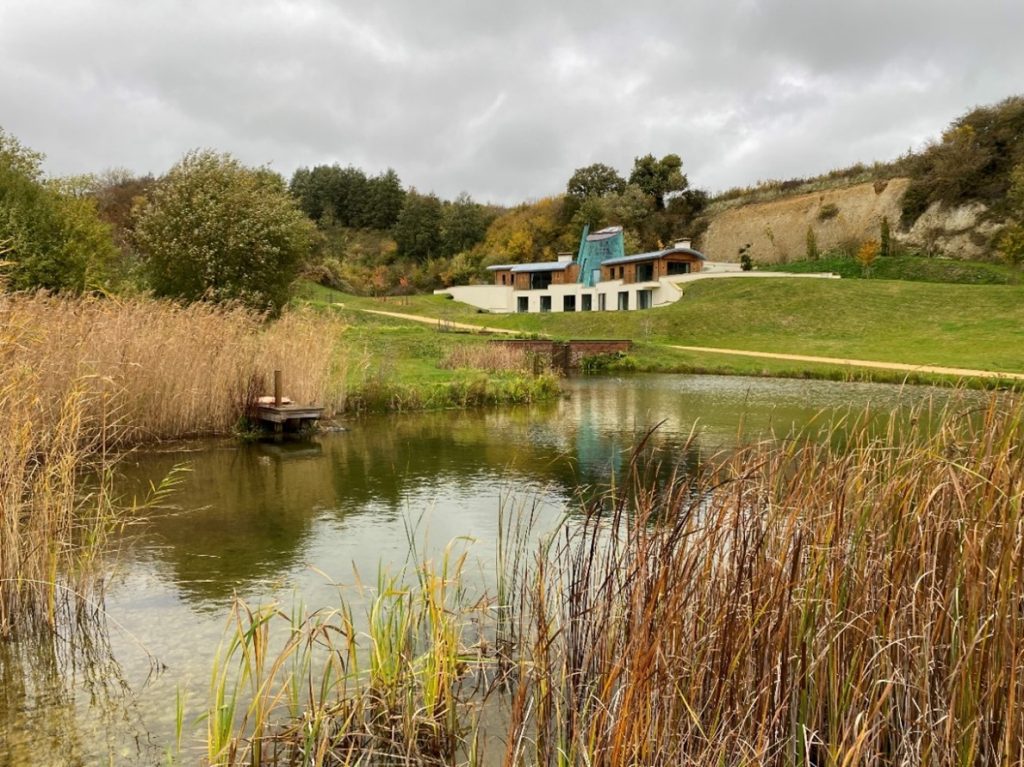 While visiting current projects in the vicinity, we took a look at projects that completed last year at White City and Hoe Valley School and Leisure Centre.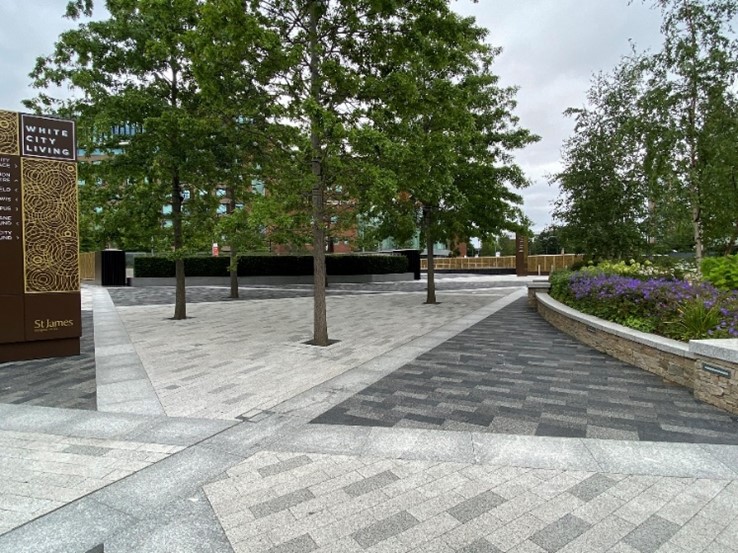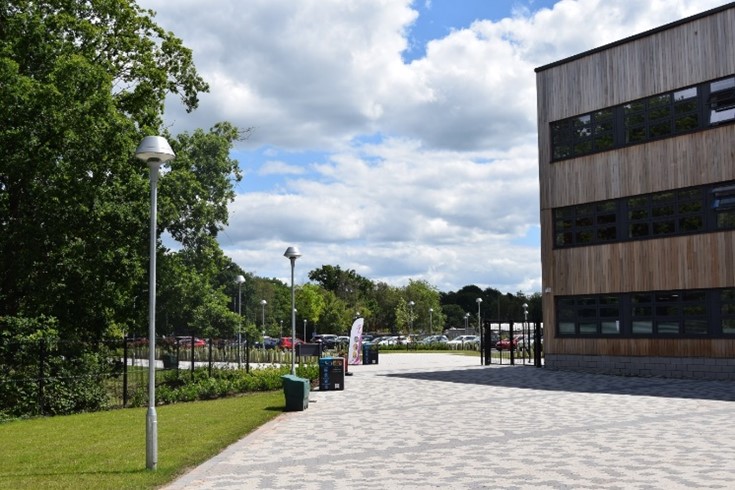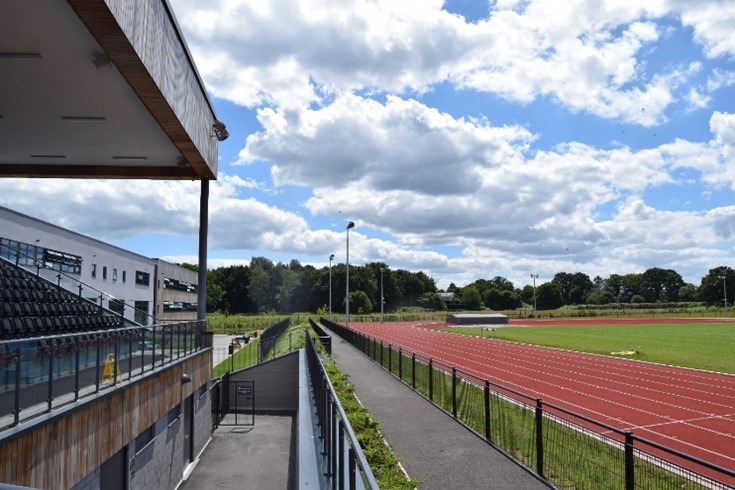 Education continues to be one of our biggest sectors of work and among those projects, St Nicholas School completed for Croydon, Austen Academy for Hampshire County Council and The Green School for Boys in Isleworth.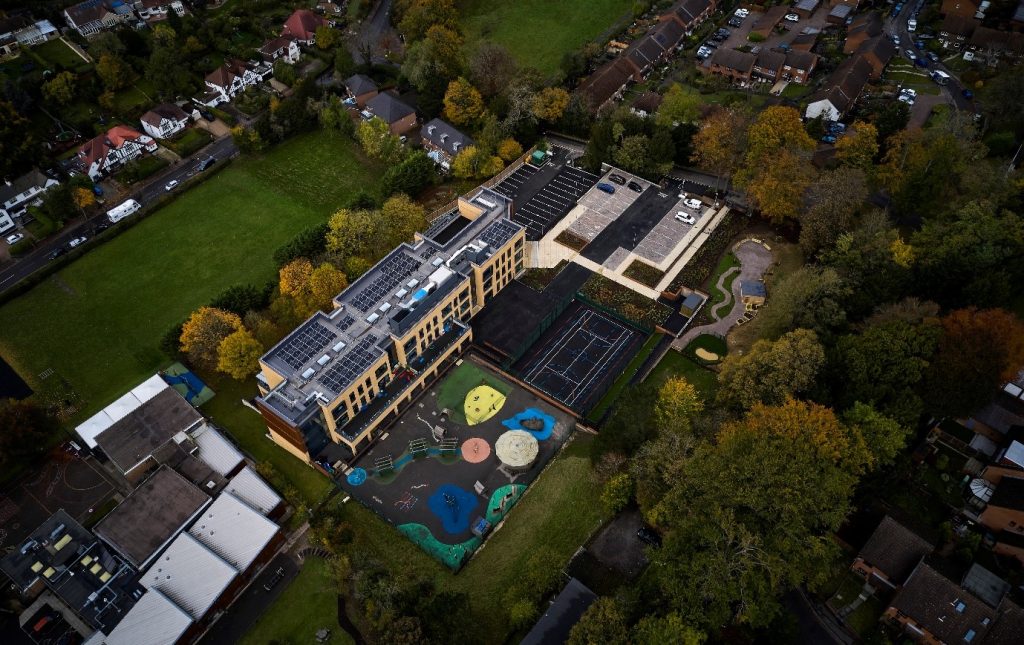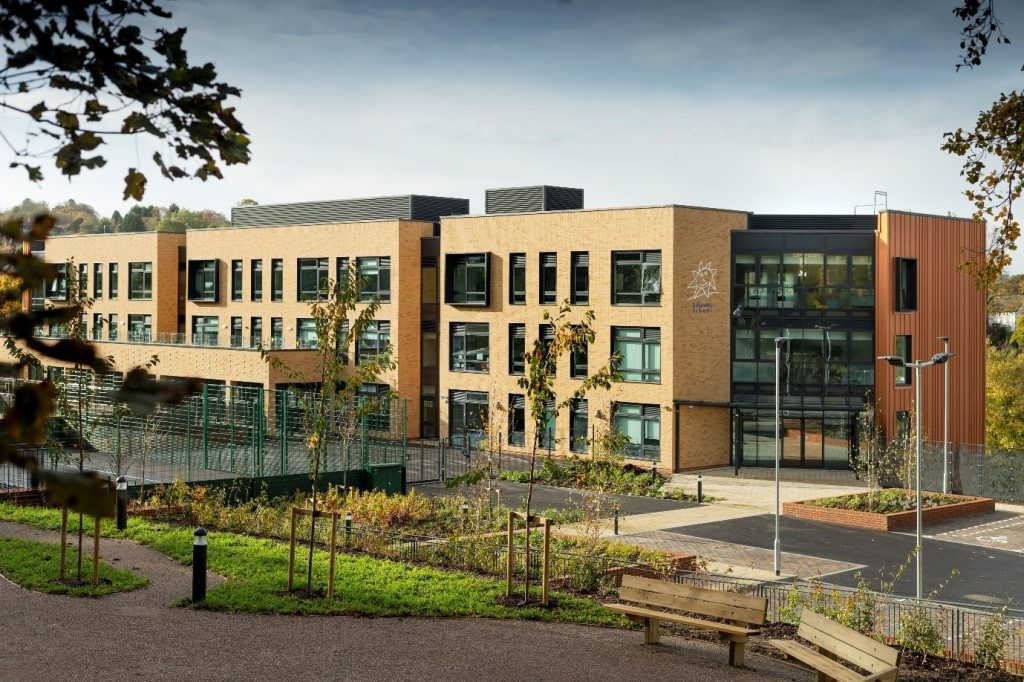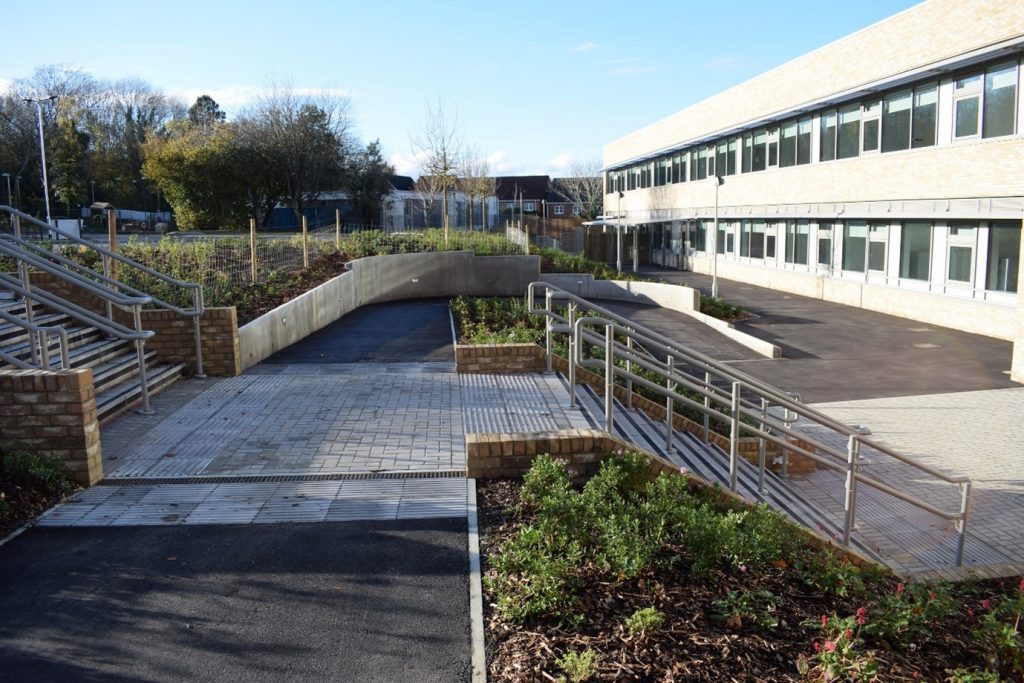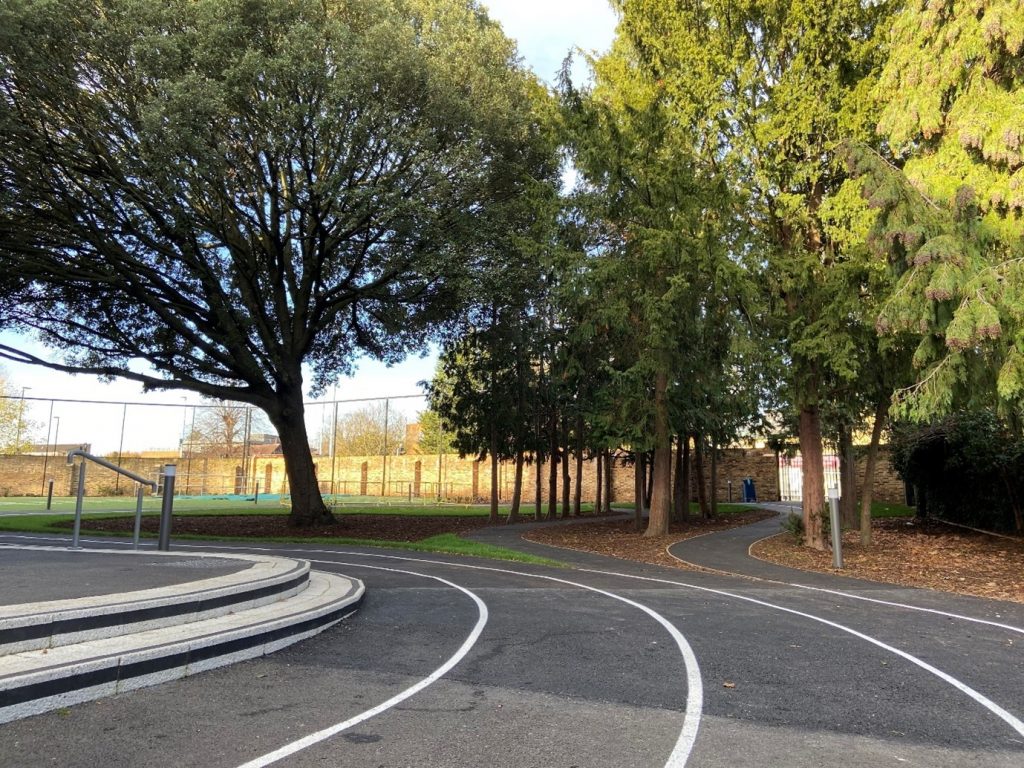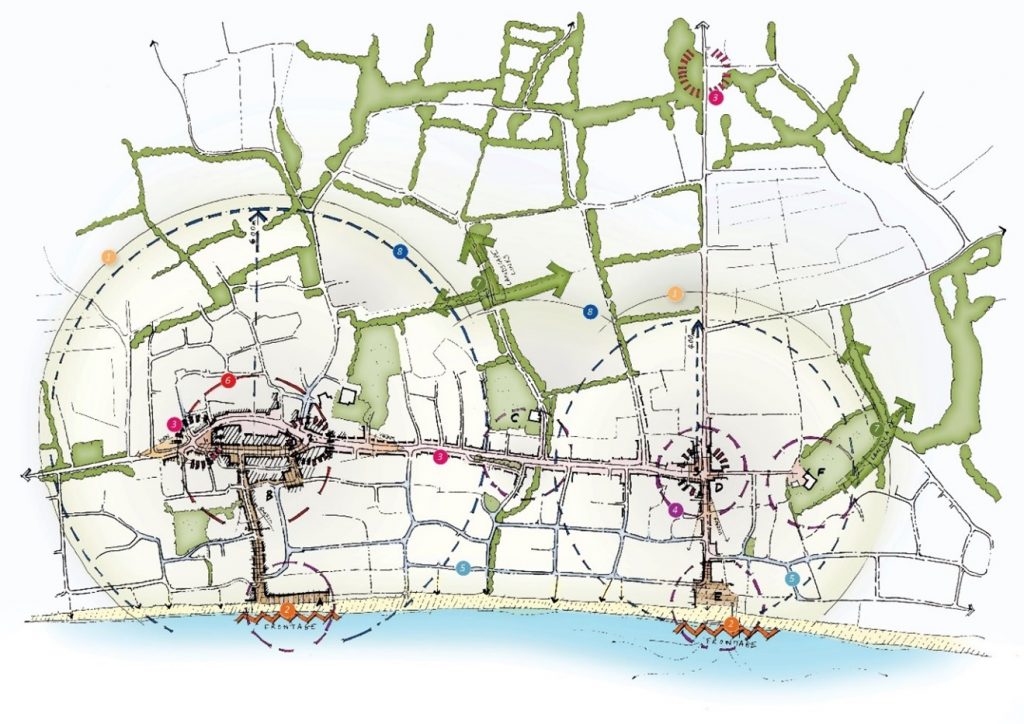 Projects still abound in an enormous variety of sectors and leisure is one of them, whether parks and public open space such as at Fort Road Park for Newhaven; the new gateway parks for Horton Heath; a new leisure centre for Winchester; initiatives with leisure specialists PSL at the Midlands Watersports Centre, Afan Forest Park and the Gnoll Estate; upgraded facilities for Goodwood and Henley Regatta; QPR Training Ground and the new members' facility at the All England Lawn Tennis Club, Wimbledon. We have also been commissioned to prepare a masterplan vision for Bracklesham and East Wittering (in a similar ilk to those done in previous years for Selsey and Hayling Island) which is hoped to be out for public consultation next year.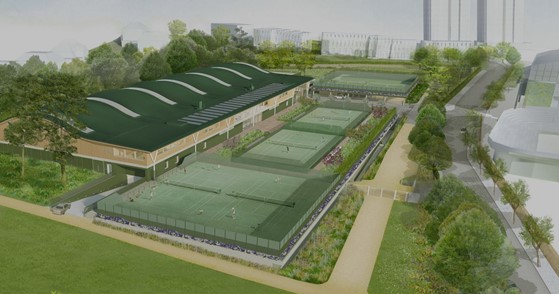 We have been pleased to collaborate with Jeremy Rye on numerous projects again this year including the two below working with architects MICA (whose images these are) – Fairfields Hall civic space, a new flagship space for Croydon and the extension to Jesus College, Oxford with its new network of spaces including the new quad.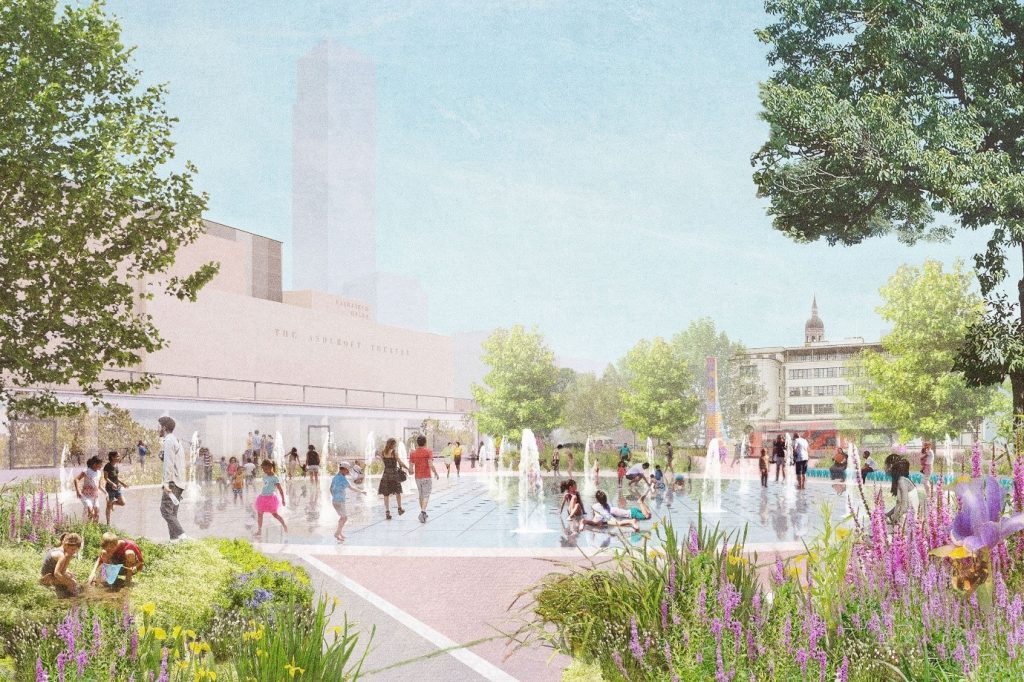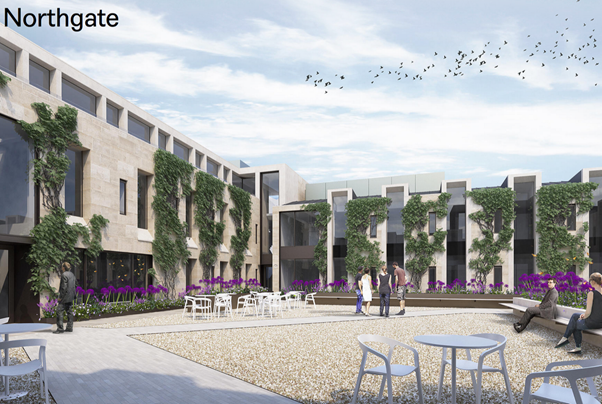 The residential sector, in all its shapes and forms – from Para 79 bespoke houses in the countryside (for which we appear to have something of a speciality and are currently underway with 6), through to social housing in rural and urban areas, we work with many of the major housebuilders as well as many specialist ones, sometimes dealing with highly complex planning applications.

We continue to encourage individuals to be involved in the wider profession. Robyn still sits on the Landscape Institute Environmental Standards Working Group and Keith on the Diversity Group. Alison still chairs the Landscape Institute's Professional Review Group at University of Gloucestershire. My own efforts to reinstate the LI International Working Group finally paid off with its re-establishment and first interactive webinar this year. I continue with the Humanitarian Working Group and have recently been appointed as LI representative to the UK Built Environment Action Group Global Future Cities Programme, something that I am really excited about.
We have struggled to get out to schools and careers events (bar one that was held online) but have been pleased to meet several students and potential career changers at the offices during the course of the summer in the usual way. Sadly, we were unable to take our usual annual student work experience placement though.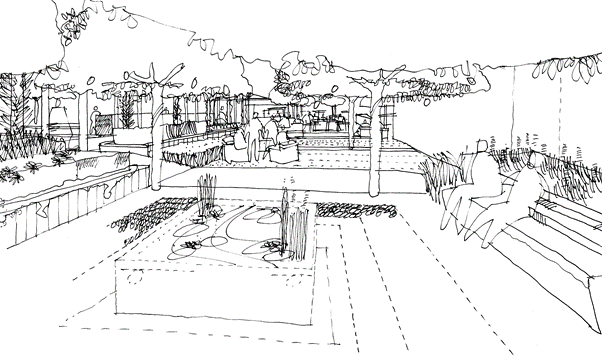 tfLAB London has continued with its work in China and Cyprus as last year, headed up by Jamie and various London private garden and public realm interventions with him and Alison variously leading. The Landmark Hotel in Nicosia is a particularly prestigious one and terra firma are assisting with drawing work. Nigel is still primarily engaged heading up the design courses at Capel Manor following completion of Brompton Cemetery for Royal Parks. Steve has been assisting with the Landmark Hotel Cyprus and keeping busy with his own projects in the north-west but also has a large one that's been bubbling under in the Scottish Highlands that we very much hope comes to fruition for us all next year.
TFLT Vilnius is keeping extremely busy and seeing some wonderful projects completing on the ground. Ramune has also been invited to take a part time post with the City Architect in Vilnius where she hopes to influence policy and the elevation of landscape standards. Unfortunately, we could not visit this year but plan to do so for the firm's 7th anniversary next summer…
TFLA Dubai are underway with a variety of schemes at all stages and scales throughout the Gulf region. They have been in the design district for over 3 years now. 
Back to the UK and our most recent big news is that Robyn and Alison have bought into the firm and are now equal shareholding partners with me, something we are thrilled about to ensure the firm's and our own futures. A big welcome to them (though Robyn has been here even longer than I have – 25 years!).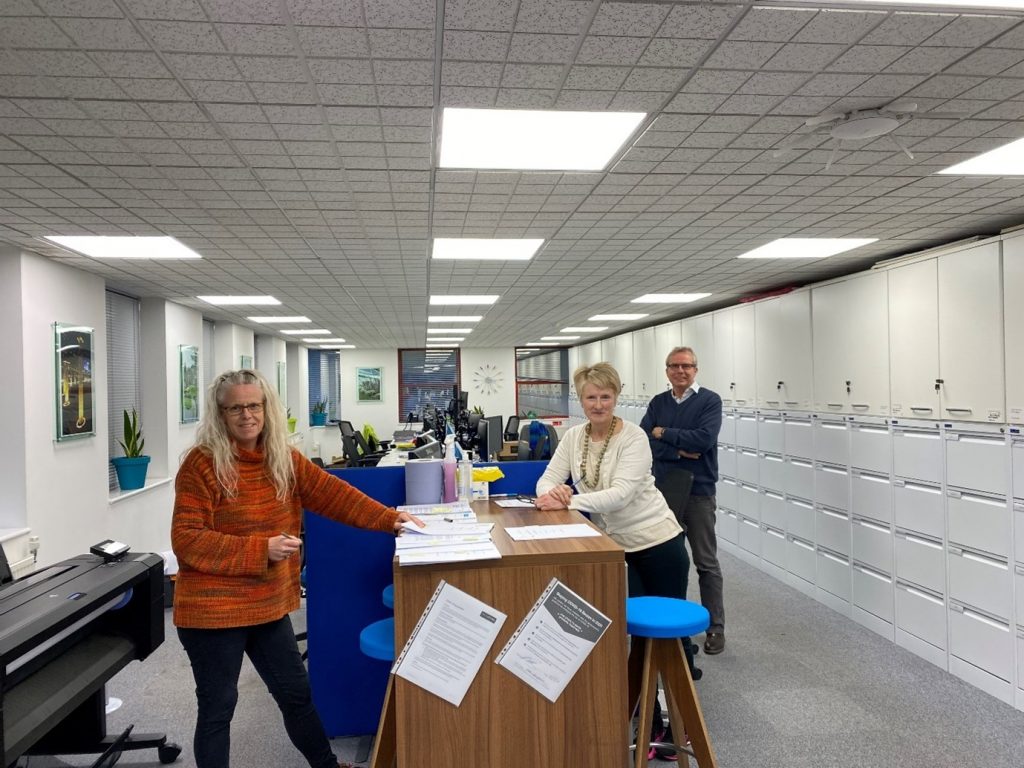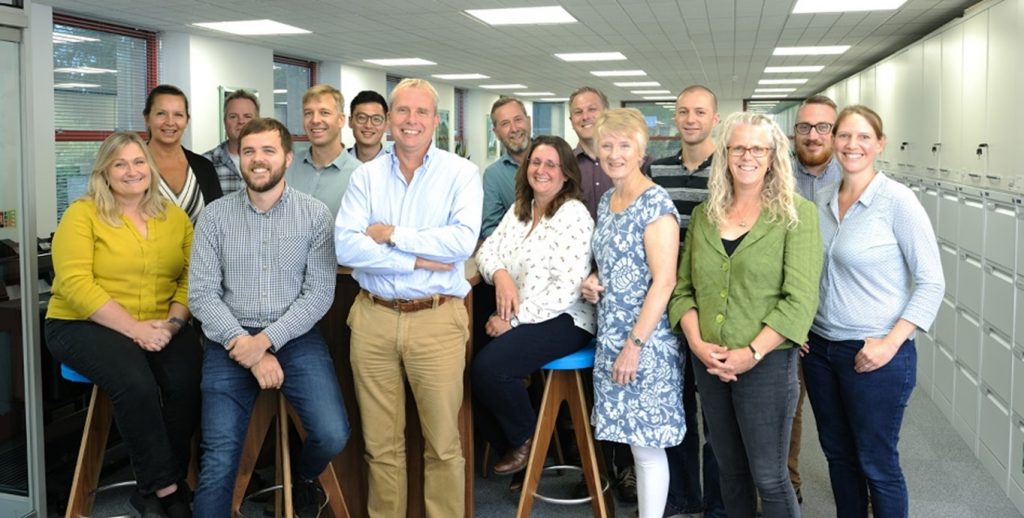 Again, I must thank the team (now on behalf of us 3 directors!) for coping so well with this year and dealing with such a busy workload in uncharted waters. We should have had a big 35th birthday celebration in Holland in May but hopefully we can have it next year…
So, time to round this off and wish you all a very merry Christmas and as good a break as circumstances allow. We managed to have an eccentric office Christmas Party remotely this year, complete with Bingo organised by Dan and delivered hampers organised by Ally. Tremendous fun but with some innovative and at times, unrepeatable call outs.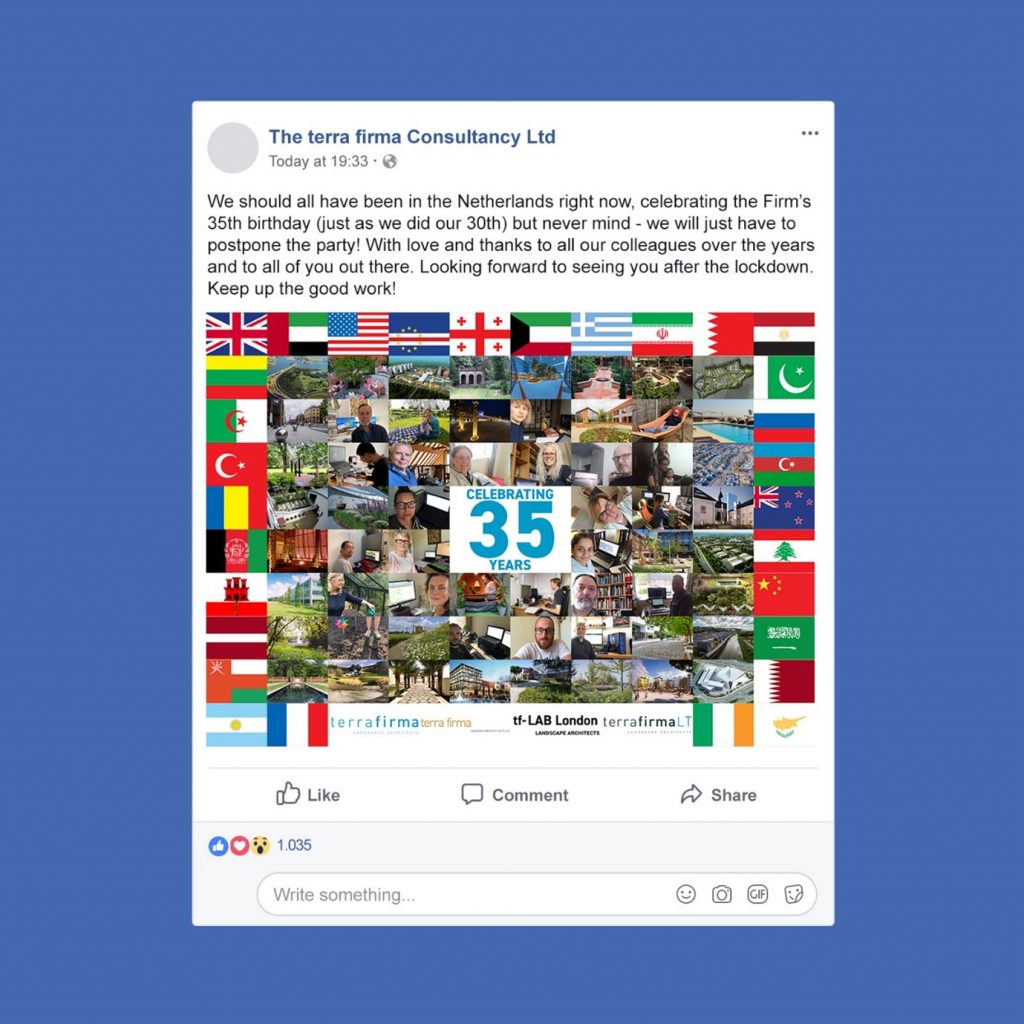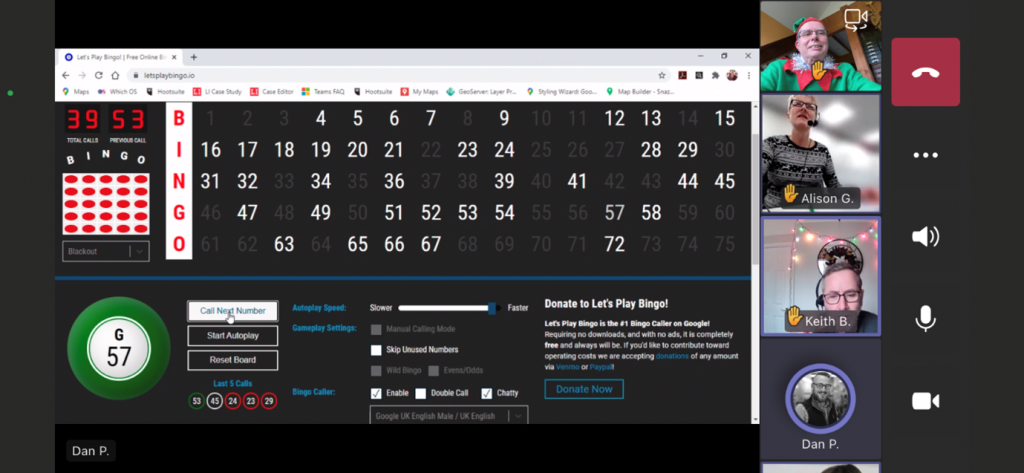 Wishing you all a very happy festive season!
Best wishes
Lionel