At terra firma we are currently working on many school projects, some of which are independent and self-funding, some which are part of Department for Education refurbishment and / or new build schemes. The latter can be a great experience but also an immensely frenetic time. I have a point to raise about these, aimed at a process rather than a person or company.
Many team members thrive on a fast-paced multi-disciplinary interaction with a speedy outcome and enjoy the informative discussions with dedicated education professionals. As landscape architects, we are often jettisoned in at the eleventh hour… feasibility study undertaken with control option having been developed over much deliberation, possibly with the thoughts of developing a free school mulled over for years prior to starting the process with the DfE.
And yet then we rush along at a breakneck pace through the ITT submission and accompanying CEM (Client Engagement Meeting) process to develop a scheme from feasibility to a point where costs are nailed down and the scheme is developed to such a stage that it can be approved to move forward to a planning application. All this in a 6-week period, sometimes running from the moment of appointment through to ITT submission without let up. Worse still, this can be a competitive situation and there may be no prize of a project at the end.
There is little time to spare. CEM#1 and we are to interrogate the brief and control option, asking the questions. You can read everything in advance and get lost in the endless appendices which turn out to be dry appointment contracts or endless lists of legacy items, but can you really learn about the project – to truly understand what the school are striving for – in an instant? CEM#2 and options and ideas are presented; we are already expecting instant decisions to be made to enable firm designs to be drawn up for confirmatory acceptance.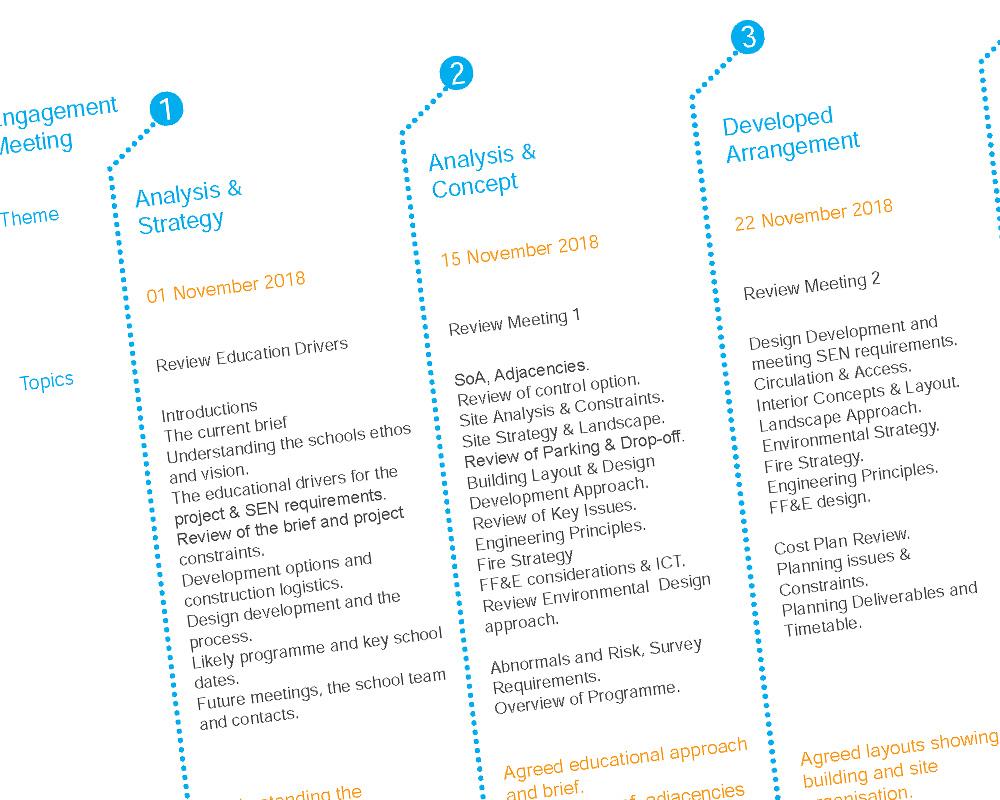 CEM#3 Structural solutions, FFE layouts, BB103 compliance, transport issues. CEM#4 IT solutions, M&E strategies. CEM#5 Finalised landscape proposals, access strategies, with every CEM underpinned and dominated by the building layout – the SOA (Schedule of Adjacencies); a rigid DfE tool dictating areas per pupil for every space inside the building. The architect wrestles to design something unique – to put their mark on it – to design a 'keeper' for the school to fall in love with – this is a long-term relationship between school and developed building being forged in 6 weeks flat.
Time of other things in this process? Other projects? R&D? Training and CPD? Admin that keeps a practice going. Life? Possibly if the process runs smoothly. Worse if there are shortfalls in the control option that need addressing. But where is the time to think? To ponder alternatives? To develop a design that really works? If the team had 3 months, this might be allowed for; it would be a start; I'm not asking for a year.
But DfE timescales are partly driven by political desire to build, therefore showing rapid progress and improvement in the government's education system offer and alleviate conditions in many schools. It's my understanding that timescales may have been originally intended to be longer in initial DfE iterations. Timescales are also kept short to keep project costs down to competing teams; treasury allocations for DfE budgets are also given a limited window of time.
This is my point: working to the DfE timescale are we letting down the group of people who need our design skills the most – the Customer? The idea of a new free school may have been nurtured over years, developing the idea with the community, and with the DfE assisting in the delivery in the latter stages of the process. The feasibility stage for a project is set by the DfE at 16 weeks. And then we ride roughshod over all this with a six-week process. Or through determination and enthusiasm, as well as late nights, by consistently managing to meet the 6-week CEM timescale, are we all perpetuating the problem? The pressure is on and teams continue to deliver…