Read Time:
5 Minute, 23 Second
This has overall been a really good year for the firm. I am guarded in my language as we are very much a 'people practice' and I know there are those in the firm who have some difficult things to contend with in their own lives at the moment and in my own case it was losing my mother a year ago today as I write this. She was from a wartime generation with collective values that she could see we strive to represent at terra firma; it is not said lightly when we speak of our colleagues as family. I am fortunate to be surrounded by an extraordinary team here and it is very much appreciated – none of our work would be possible without them.
This year we have seen the departure of Niall but the arrival of Dan (late-2018) and Leo (Spring 2019), and Isla's departure (albeit temporary) for the arrival of Ezra! Both Alex and Gill completed their Pathway to Chartership and passed the final examination to become Chartered Members of the Landscape Institute.
We joined in the celebration of the Landscape Institute's 90th birthday on the day itself at its birthplace with a photo-bomb opportunity with current LI President, Adam White, and his business partner, Andrée Davies, in their garden at RHS Chelsea in May, and then by sponsoring the LI90 Festival of Ideas at the Olympic Park in June.
We have appeared in the landscape press on numerous occasions, including profiles in FutureArc (above top) early in the year and Pro Landscaper last month – as well as being featured in the premier issue of Landscape: The International Issue (above). We were outright winners in two of the five highly coveted Local Government News Street Design Awards in April (great news on my 60th birthday while in Costa Rica) – apparently the only firm to do so in the same year throughout the awards history – with the Woking Muslim War Cemetery Peace Garden winning the 'Urban Green Space' category and the Brighton i360 Golden Spiral Plaza winning 'Public Lighting'. We also were members of teams that received Highly Commended in the New Forest National Park Design Awards for Brockenhurst College and no less than four of the newly initiated South Downs National Park Design awards, with Timberyard Lane, Lewes; Alice Holt Visitor Centre; Gilbert White Museum, Selborne; and Buckmore Studios, Petersfield.
Left: The Golden Spiral, Brighton; Right: Timberyard, Lewes – two of this year's award winners
In spite of my own Brexit concerns, the workload has continued to increase, and we saw another year of record activity and turnover. If anything, we have been striving to contain it, sometimes outsourcing to our other offices, utilising our subconsultants.
We have been kept busy at all scales, from assisting the masterplans of new developments such as those illustrated below at Harwich and Fernhurst, both currently in planning; strategic policy documents such as Landscape Character Assessments and Capacity Studies for Test Valley, East Hants and Chichester; EIA inputs for major infrastructure projects such as Gibraltar's Sewage and Water Treatment Plant; continuing term consultancies for the South Downs National Park Authority, NATS, Churchill Retirement Living and McCarthy and Stone; heritage projects such as Hinton Ampner, The Vyne and Osterley Park for the National Trust, Brookwood Cemetery for Woking BC and The Wilderness and Ham Manor House with Jeremy Rye; healthcare with Brighton and Bournemouth and Poole hospitals; numerous developments for healthcare and the elderly; and the biggest sectors, residential and education, with an enormous variety of schemes throughout the country. High profile clients include the All England Lawn Tennis Club at Wimbledon and Goodwood, for whom we are engaged with in exciting new projects.
Harwich Navyard
Fernhurst old Syngenta site
Left: Horiba MIRA, Nuneaton; Right: NATS, Prestwick – two projects we continue to advise on on-going management
tf-LAB London has continued with its work in China and Cyprus headed up by Jamie and various London private garden and public realm interventions with him and Alison variously leading. Nigel is now primarily engaged heading up the design courses at Capel Manor following completion of Brompton Cemetery for Royal Parks. Steve has been keeping busy with his own projects in the north-west but also has a large one that's been bubbling under in the Scottish Highlands that we very much hope comes to fruition for us all next year.
tf-LAB's project plans in China (left) and Cyprus (Right)
TFLT Vilnius is keeping extremely busy and seeing some wonderful projects completing on the ground. It was Alison's turn to visit Vilnius this year and I look forward to joining them for their 6th anniversary next summer and seeing these for myself.
TFLT projects in Vilnius. Left: Boksto; Right: Hilton roof garden
TFLA Dubai are underway with a variety of schemes at all stages and scales throughout the Gulf region. They have been in the design district for over two years now.
Left: TFLA offices sit within the Dubai Design district, viewed here, in its splendid isolation, from the 75th floor roof garden of one of our projects currently under construction; Right: Aloft Hotel, which was designed by Gillespies and supervised by TFLA FZ-LLC; Below: Fly-through imagery of Mina Rashid
Above left: Beirut Waterfront Masterplan 2002; Above centre: The reclamation project December 2019; Above right: Lionel and Caren at Byblos 2019; Below: 2001 with Solidere during masterplan process
Having just returned from Lebanon, a country that has played a large part in my life since I first went there for a 3 month spell at the beginning of the Millennium, I am reminded that we are very close to being 20 years on from that landmark date. Although terra firma had undertaken work overseas previous to this (mainly in the USA in the late 80s), it really marked the beginning of the firm's international agenda. In a way, this brings us back to the beginning of the year when we spoke about the wider reach of the landscape profession in Landscape magazine and with the growing public movement to combat climate change, the LI's declaration of Climate Emergency and David Attenborough's rousing speech at the LI Awards. We may finally be seeing serious shifts in public opinion coinciding with the profession's most ambitious remit; to do something about it.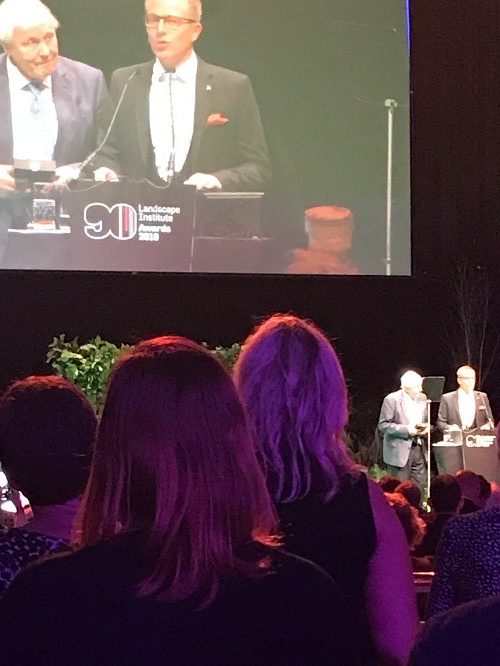 Let's hope 2020 builds on this. Wishing you all a very happy festive season.
Lionel