Read Time:
2 Minute, 48 Second
Whilst I am a regular a blood donor (and that's a grand thing to do – sign up here:- Home – NHS Blood Donation) I'm not on about that. I'm on about careers.
Having recently recruited it is clear that, whilst great candidates are out there, numbers applying for jobs are down.
Are we as a profession doing enough to assist the flow into the industry? In order to feed the industry with landscape architects there needs to be a flow of applications coming in at the bottom, whether that is at undergraduate or post graduate level, or alternatively from apprenticeships.
I work as an external examiner at Leeds Beckett University and the team there tell me numbers are on the up. But the cohort entering the undergraduate course is nowhere near the numbers that started with me in 1990 – 80 first years – the lecturers must have been either mad in the first place or stretched to breaking point and mad by the end!
But… in order to get applications in the first place there needs to be some awareness of the profession. Despite the LI Campaign Chooselandscape – Connect People Transform Places Protect Nature is the message getting across to the biggest audience – school pupils?
If you've never heard of the profession, how do you search for a way of getting into it? A recent poll in our office (of 13) showed a broad mix of how staff found out about landscape architecture: a uni prospectus or website (5); web search (1); reading a book (1); awareness from parent's profession (1); similar course at uni (1); careers website (2); and school careers service (2).
This rather unscientific research shows that the method with the largest audience had one of the smaller success rates. In the year 2020/21 there were 4190 secondary schools in Great Britain (according to website Key UK education statistics – BESA).
According to the Landscape Institute there are 472 registered practices. Membership (comprising associates, chartered members, fellows and technicians) in the UK is 4567, with a further 1137 in other categories.
That's 0.9 schools for every UK-based landscape institute member, so only really one each. Ideally this happens:

At terra firma we try to go to every careers event we are invited to where possible. We get invited to the same ones regularly but that's ok – we speak to different pupils every time. But the careers advisors are aware of tf; that is why we are invited back time and time again.
I have recently spoke with a Careers Adviser at the County's Hampshire Futures
Skills & Participation team, who I had met at a school event. We agreed that I would email them information about getting into the profession and they would then forward to the careers teams at every secondary school in Hampshire. This then happens: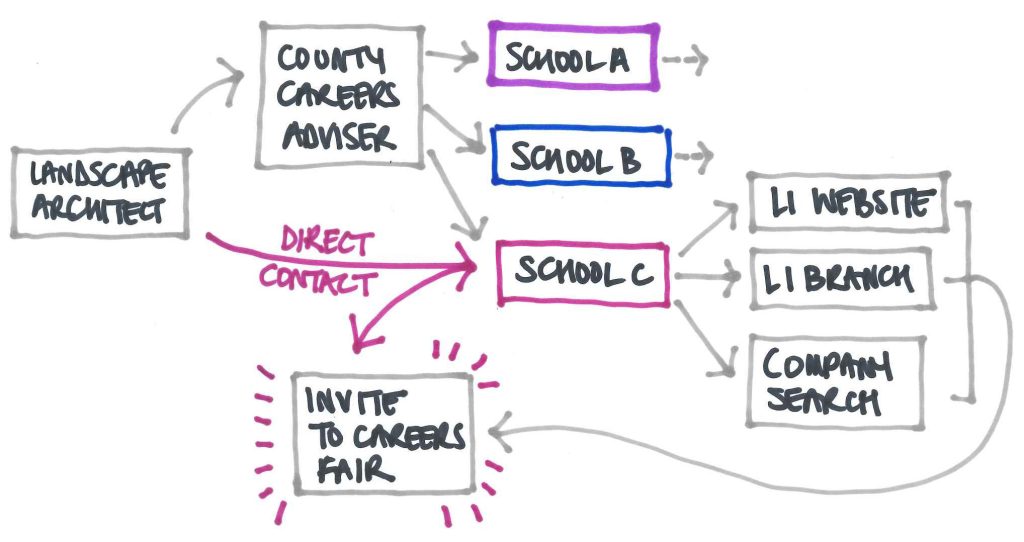 Result! So what am I asking of the profession?
Everyone makes a commitment to get in touch and visit at least one secondary school in their area per year and talk to pupils.
Practices get in touch with careers advisers in their area and discuss ways of raising awareness of the profession.
Encourage everyone to participate!
If we want to make recruiting easier and increase numbers in the profession, all hands to the pump please!
#chooselandscape #leedsbeckettuniversity #iwanttobealandscapearchitect #landscapearchitect #changeyourcareer