Read Time:
5 Minute, 7 Second
Last year, Iris and I embarked on an ambitious local project in Petersfield, named "Water Meadow to People's Meadow.", while we were preparing for a competition entry. Our objective was to transform a neglected 5-hectare piece of land currently owned by Tesco into a vibrant communal space. This land was initially part of Tesco's development plans, but they later abandoned the idea due to its floodplain nature, rendering it undevelopable. Consequently, it had been reduced to nothing more than a footpath leading to and from the Superstore.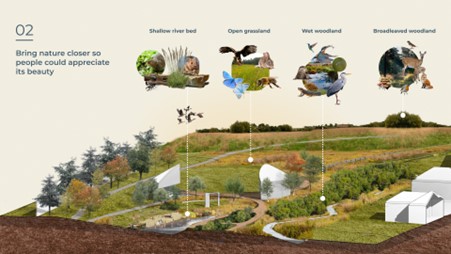 Our vision encompassed the implementation of nature-based solutions to address the flooding issue while simultaneously enhancing ecological diversity and fostering a stronger connection between nature and the local community.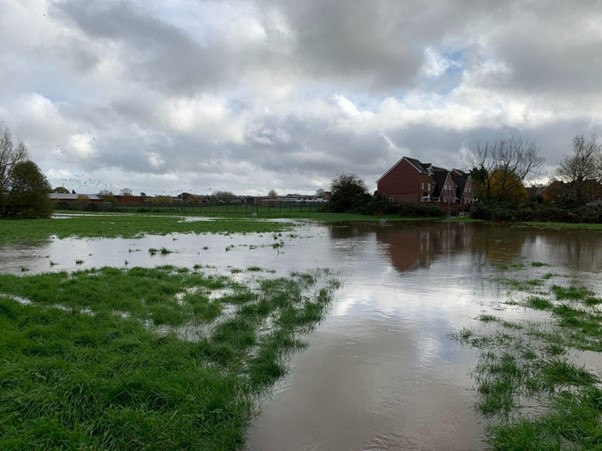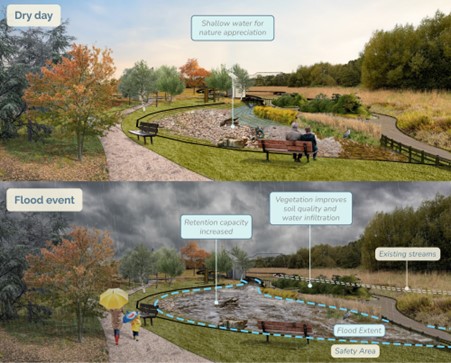 The proposal garnered overwhelming support from residents and councils and even reached the finals of the Pineapple Award in the future public realm category. Additionally, it received a commendation in The Climate Creatives Challenge.
The credit for this achievement should go to the local residents who voiced their opinions. Unlike traditional practices where user consultation is often passive and deemed too late in the process to exert any substantial influence, we adopted a participatory design approach. This method, rooted in the conventional design process known as the Double Diamond (Discover, Define, Develop, and Deliver), engages users across multiple stages, allowing us to gather invaluable feedback for shaping our design. Research has demonstrated that early user involvement empowers them and instils a sense of ownership over the project.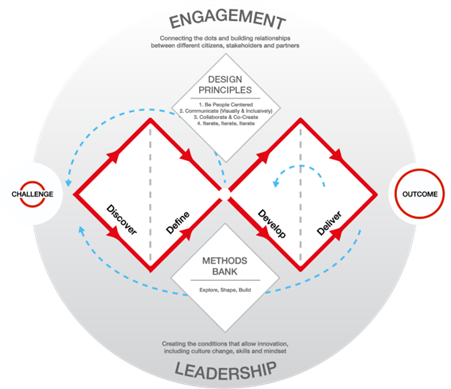 Our aim is to involve users in as many aspects of the design process as possible. The diagram illustrates the design process and the extent of user involvement in this project. We conducted user interviews, engaging in conversations that might be regarded as a luxury in typical construction projects, particularly when not mandated by planning regulations. Through these hour-long interviews with 15 or so individuals, ranging in age from 26 to 76, who either reside or own businesses in Petersfield, we gained insight into their perspectives on living in the area, their pain points, and their desires for open spaces.
To further refine our understanding of user needs, we developed personas—fictional characters representing the more extensive group based on the interview findings. These personas, accompanied by background context, assist us in focusing on specific needs and frustrations during the design process. They also facilitate keeping stakeholders informed and aligned with the project's goals, a practice commonly employed in digital and industrial product design and even in government policymaking.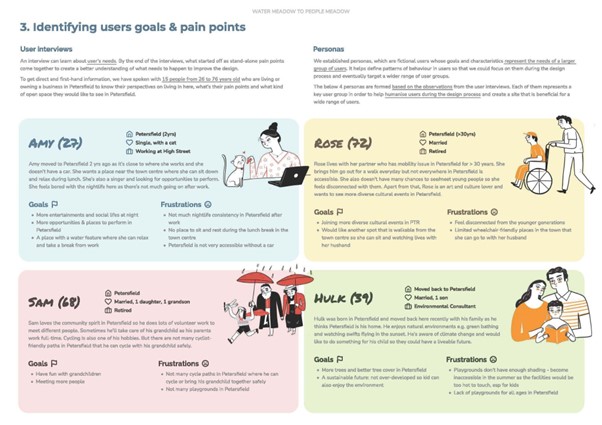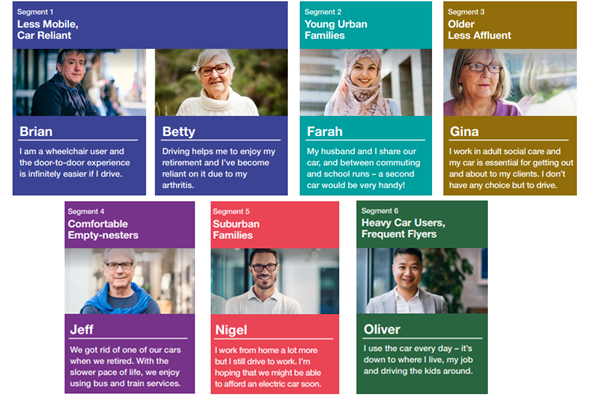 What makes this project genuinely exhilarating is its unpredictability and the limitless potential for leveraging local resources within the space. As we engage with various community groups, we encourage them to think boldly and imaginatively about what this space could become. The key to the success of our design approach hinges on increased user involvement, ensuring that the space will be well-maintained and heavily utilized. Unlike many public parks that demand significant investments of time, money, and resources to stay in good condition, we aspire to create a space that thrives from the outset.
This project commenced as an experiment to test our participatory design approach. Iris, who is a professional user experience (UX) designer, inspired me to go beyond merely considering users and actively involve them in the process. This interdisciplinary experience has been both enjoyable and enlightening, enabling us to gain a deeper understanding of Petersfield, its people, and their perspectives.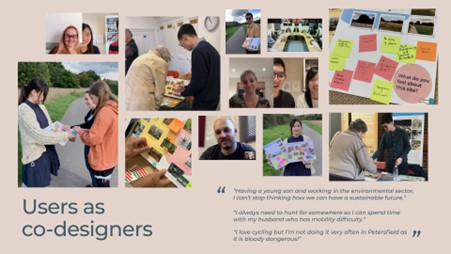 Recognising the potential impact of this project, we are determined not to let it fade away once the competition ends. We have reached out to the local council, Tesco, community groups, and schools to share our vision for transforming this land. While we are still navigating the project management aspects, we maintain high hopes that this endeavour will ultimately benefit the local community.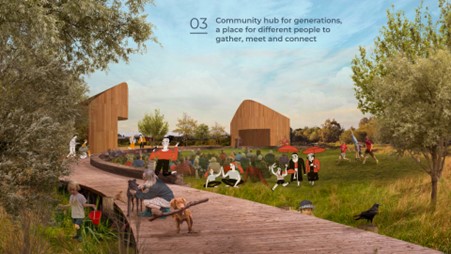 Currently, we are diligently working on a comprehensive feasibility study to persuade potential funders that our proposal is viable and the landowner that transferring this land to capable hands is a wise decision. There is still much work to be done, including cost estimation, fundraising, ecological and structural assessments, hydrology studies, and more.
Our message is simple yet potent. We encourage all designers and architects to adopt a participatory design approach, listen to their communities, and respect their feedback. The success of our project hinges on this collaboration. If you're inspired and wish to contribute to your community, we invite you to join us. Your ideas, your energy, and your passion can make a significant difference.
Further Reading –