Read Time:
3 Minute, 33 Second
On the 13th May some of the terra firma team, along with some invited guests, embarked from St Pancras International on the Eurostar destined for Rotterdam – a trip to celebrate terra firma's 35th birthday (although this year it's the 37th!). The trip was a long time in the planning, having been delayed and put back due to the numerous COVID lockdowns and travel restrictions. terra firma's actual 35th birthday was in 2020!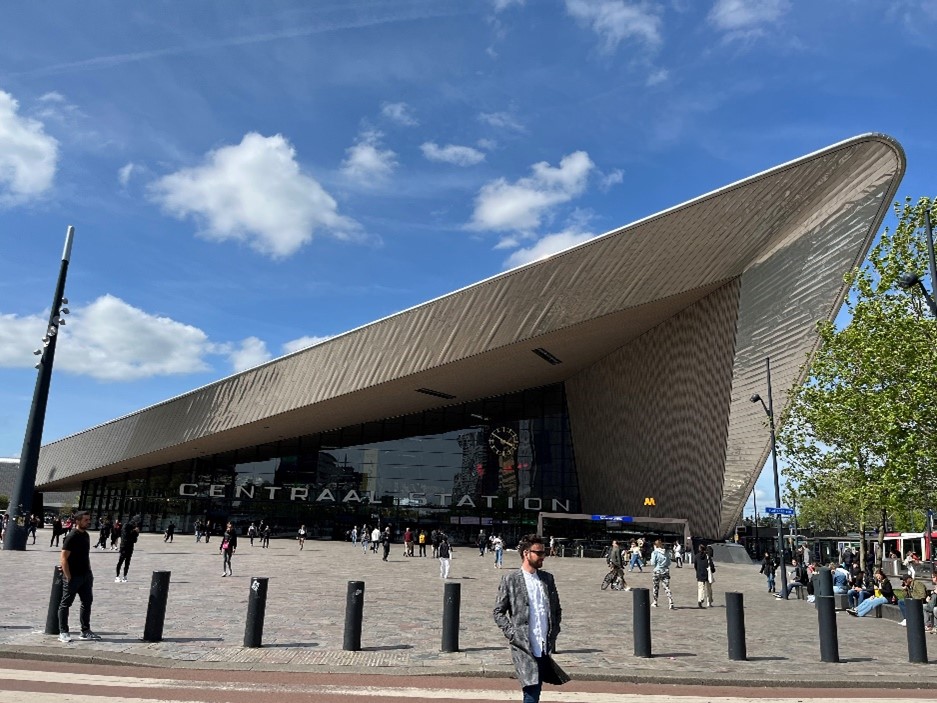 Arriving in Rotterdam Grand Central station in the late afternoon, and after a quick stroll to the hotel to drop off our bags, it was off for a pre-arranged visit to the offices of West 8, a landscape design consultancy based in the Katendrecht district of Rotterdam. A fair bit of my study time at university was spent looking at West 8 projects in landscape journals and books and listening to lecturers suggest visiting their projects, so to visit their offices was an inspiration.
The West 8 team kindly showed us a pin board wall of projects they're working on and also suggested urban design and landscape projects we could visit whilst in the city (some of which were their own of course!). But upon leaving West 8's office, a bar happened to be stumbled upon (actually, their office is handily above a few bars) and as it was roughly beer o'clock at this point, it would have been rude not to! The urban and landscape sightseeing would of course have to follow on the next day.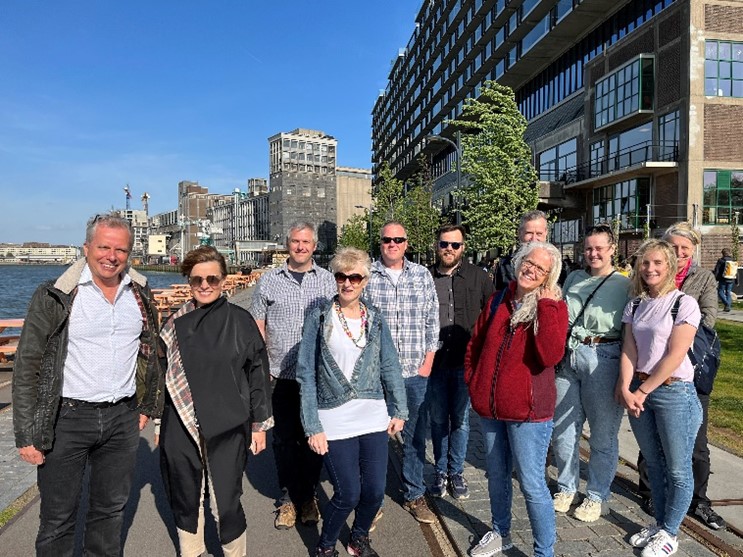 After a sobering breakfast at the hotel the next morning, it was off to visit some of the sights of Rotterdam. The Port city has numerous sights to visit, for us these were (of course) mostly of the landscape and architectural variety. Having partly divided up slightly into smaller groups at this point, the sights visited will have varied amongst the terra firma team, but for me first was the new mirror clad extension to the Museum Boijmans Van Beuningen known as 'Depot Bojimans Van Beuningin'. With the surrounding landscape design still under construction, there was limited sightseeing here, save from looking in wonder at the curved mirrored façade to the building.
On from here southwards was the Museumpark, a linear stretch of green sandwiched between the Museum BVB, Kunsthal Rotterdam Museum and the Natural History Museum Rotterdam. The park had a very naturalistic feel with its largely tree'd canopied surroundings waterways beneath the trees.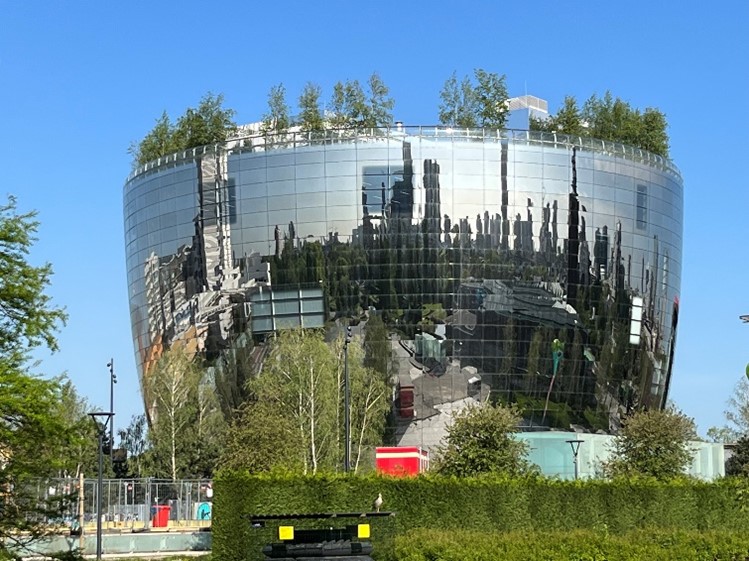 Popping out southwards from the Museums and across the Westzeedijk road it was into Het Park, a much larger park with more open green space and winding footpaths. After a much-needed coffee stop it was a wander through Rotterdam Centrum districts network of urban spaces, one on the list suggested by West 8 being one of their own projects, a re-vamped streetscape with restaurants and cafés close to Beurs Metro Station. Heading northwards we arrived at Park Pompenburg with its bright yellow timber clad bridge connecting and activating a group of individual green, and urban spaces interspersed across a busy road network. Sadly, much of the bridge and park was closed off and inaccessible during our visit.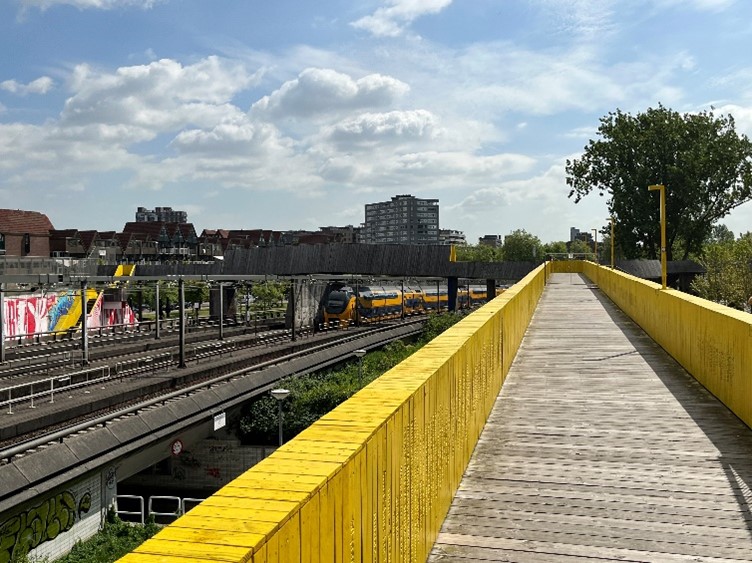 By this point our trip to Rotterdam was coming to a close and with a Saturday afternoon Eurostar train to catch, it was a short walk back to Rotterdam Centraal train station. Rotterdam's flat, city streetscape with its open feel to the wide, cycle lane-lined streets was in stark contrast to the cramped conditions of the city station's Eurostar waiting room we endured shortly after!
Nevertheless, the port city had provided a good mixture of urban and green spaces, and not to forget it's occasional 'hints' of Amsterdam-esque architectural street and canal scenes, but our whirlwind overnight visit to Rotterdam had come to a close. Not long now to terra firma's 40th birthday celebrations!
Where to next for the big four-oh, I wonder?!
Image credits: terra firma